The best of all futures markets — Eurodollars (not the currency, you idiot)
Introducing you to the futures market with the best volume and liquidity of all
Many relatively new futures traders, if not most,  have never traded the Eurodollar futures. This is not the currency — it is the interest rate on U.S. Dollars held abroad. If I had to choose one and only one market to trade the rest of my life, this might be it — even though many of the world's largest bank are guilty of stealing billions of dollars through the Eurodollar and Libor mechanisms in recent years.
The volume in Eurodollars (traded at the CME) is beyond anything you gold and crude oil groupies can comprehend. Consider the following volume figures for 2012:
Gold – 43.8 million contracts
Crude Oil – 134.2 million contracts
Eurodollars – 425.1 million contracts
And, volume in 2012 was way off previous years because of Uncle Benny's Zero Interest Rate Policy.
The liquidity is equally astonishing. Presently I am trading the Dec. 2017 contract, which, as I look at my price monitor right now at 7:12 PM (MDT), has four to five times more bid and offer liquidity than the June 2013 E-Mini S&P contract. In fact, the S&Ps do not even have any 2017, 2016 or 2015 contracts to trade.
But the most exciting part about Eurodollar is that within the next few years a major trend will occur. Like or not, you Keynesian freaks, the short end of the U.S. yield curve will not be married to zero for the rest of its life. Uncle Benny will soon retire, to be replaced by a selectee of "Team Incompetence."
The quarterly graph of Eurodollar futures displays the yo-yo character of the short rates. [Keep in mind that the Eurodollar futures trade at the inverse to rates — when rates go up, Eurodollars go down.] Four times in its history, Eurodollar futures have dropped 500 or so basis points (a 5% rise in rates). In the cash market prior to the start of futures trading, the Eurodollars had a rate spike (price drop) of 1000 basis points twice.
Just as the Fed and all its stupidity cannot keep interests at zero forever, it also will not be able to prevent a sharp spike in rates (drop in Eurodollar prices) when the time comes. And, the time will come.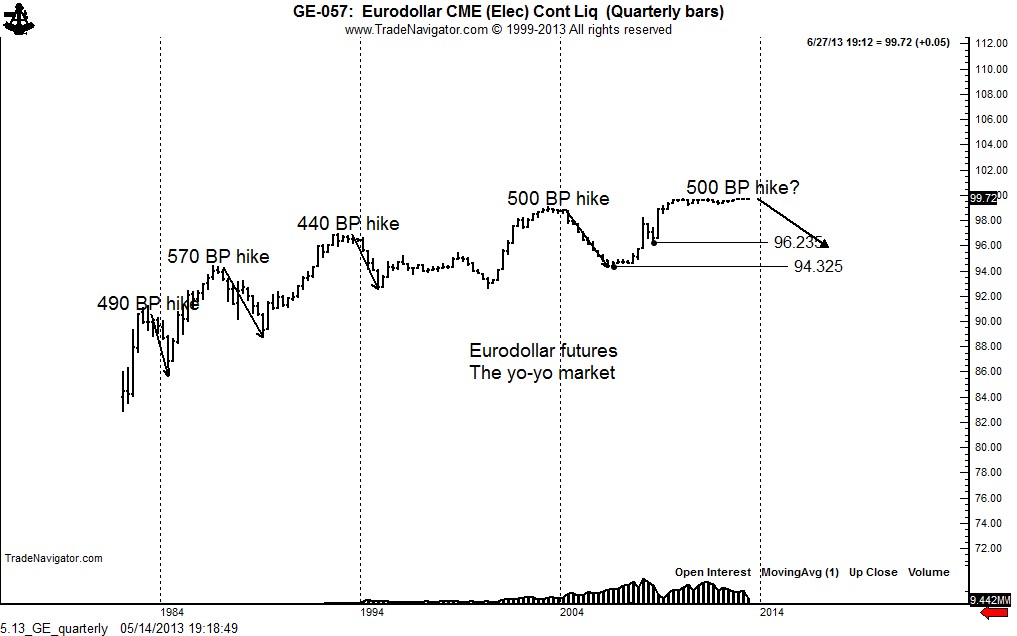 A 500 basis point drop in Eurodollar prices is well within the realm of possibility. Yet, the deferred month contracts have not yet priced in this type of drop. Even a 350 basis point drop would put futures at 96.25 or so by the end of 2017. Yet, the Dec. 2017 contract is priced at 97.65 (2.35% rate). This is far too high a price.
The Dec. 2017 contract is forming a textbook H&S top pattern. This pattern has a likely target around 95.00 to 96.00. Such a rate is very possible. Position traders should short all rallies. Traders who have been around for decades know that when Eurodollars trend, they really trend. Sorry, Keynesians — it will soon be time for you to meet your maker.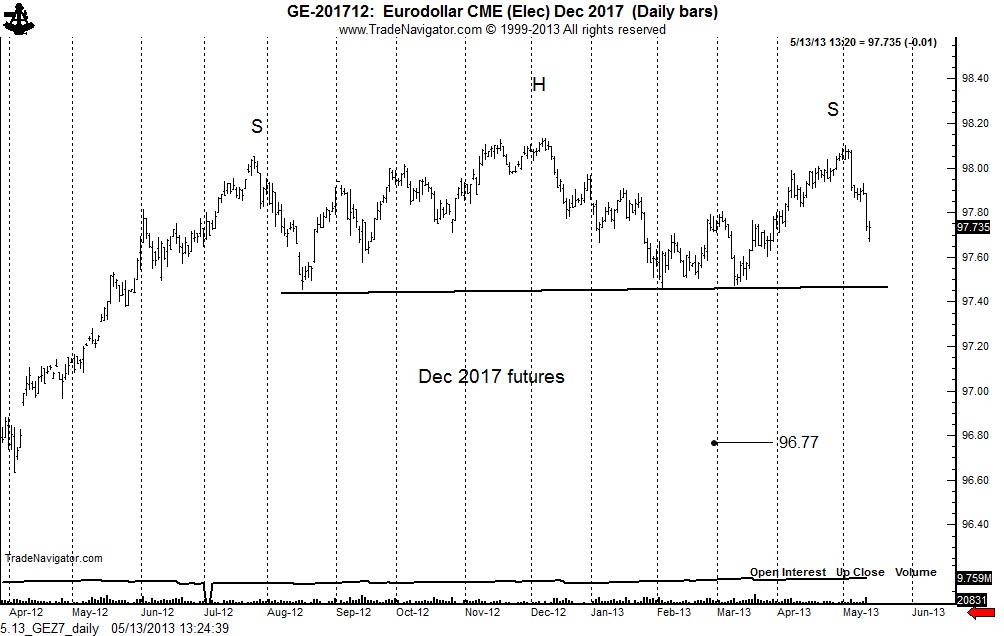 The information in this blog post represents my own opinions and does not contain a recommendation for any particular security or investment. I or my affiliates may hold positions or other interests in securities mentioned in the Blog, please see my Disclaimer page for my full disclaimer.

blog comments powered by

Disqus
Peter Brandt entered the commodity trading business in 1976 with ContiCommodity Services, a division of Continental Grain Company. From his start in the commodity industry, Peter's goal was to trade proprietary funds. But, he first needed to learn the business. More »

Archives