Short Commodity ETFs – Part 2: The move has begun
The global commodity price decline has begun and has a long way to go
Monday morning I posted a comprehensive strategy for being short global commodity prices through stock ETFs. The purpose of this post is to update Monday's communications.
Based on Monday's post, per each $100,000 unit of trading capital I am now short 400 shares of $DYY, the PowerShares DB Commodity Ultra Long ETF — 200 shares at $11.64 (with a present risk to $12.22) and 200 shares at $11.23 (with a risk to $11.81). I may lower the stop on the entire position to 11.81 depending upon price action in the next few days. I will short another 200 shares at $10.14 stop, and if I am filled on this order I will risk the entire 600 share position to $11.06. The target of this trade is $7.15.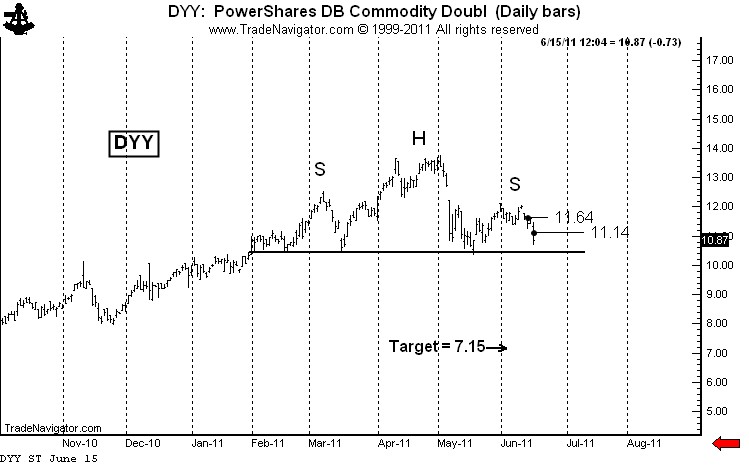 I had also planned to buy $SALL, a U.K. ultra short commodity ETF. I am canceling this plan, and will instead buy $CMD, the ProShares UltraShort DJ-UBS Commodity ETF. This ETF exhibits a 4+ month H&S bottom pattern. I will buy 100 shares at 52.01 stop with a risk to 49.19. If I am filled on this order, I will likely extend my leverage by purchasing another 100 shares on a break to 50.52, using the same 49.19 stop. This is NOT a liquid ETF. The target on the trade would be 68.00.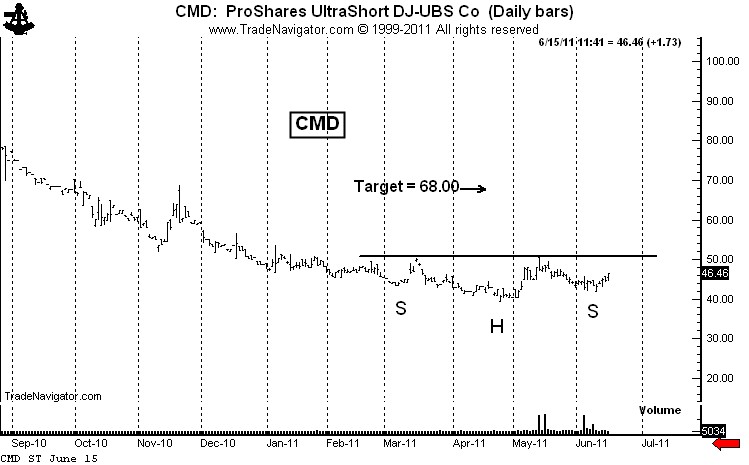 On a reward to risk relationship basis, the risk of my present position is about 23 basis points, or $230 per $100,000 of capital. If both $CMD and $DYY continue to trend in the direction I expect and all orders are filled, my maximum risk at any given time will be about 45 basis points with a potential reward of 570 basis points. So, this trade has a reward to risk ratio in excess of 12 to 1.
Stay tuned, folks.
Disclaimer: I am a pure chartist. I do not follow fundamentals or macro economic factors.
###
The information in this blog post represents my own opinions and does not contain a recommendation for any particular security or investment. I or my affiliates may hold positions or other interests in securities mentioned in the Blog, please see my Disclaimer page for my full disclaimer.

blog comments powered by

Disqus
Peter Brandt entered the commodity trading business in 1976 with ContiCommodity Services, a division of Continental Grain Company. From his start in the commodity industry, Peter's goal was to trade proprietary funds. But, he first needed to learn the business. More »

Archives