Markets I will be watching while on vacation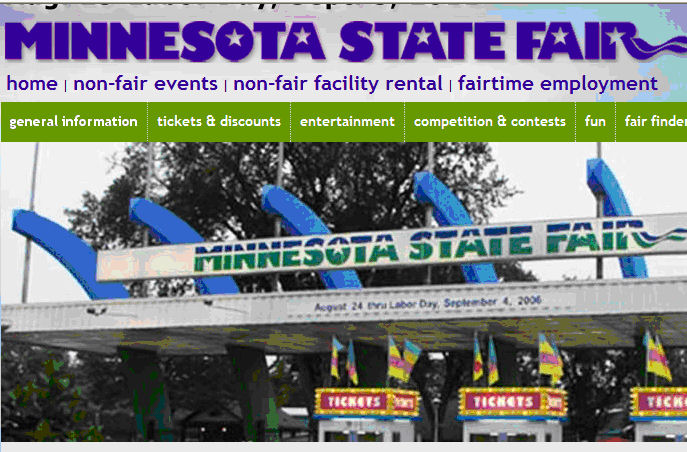 I am headed on a two-week vacation to Minnesota to pursue the two greatest attractions on earth — the Minnesota State Fair and my grandkids. I look forward to both.
I probably will not post blogs while I am gone. I will probably post some charts to chart.ly.
I am a position trader — so I am carrying trades with me and I will have orders in place to enter new trades if certain prices are hit. I will spend an hour or so each day looking at a few charts and entering orders — after all, a trader is really nothing more than a glorified order enterer. Do all the orders you enter make sense according to your trading plan? What, you don't have a trading plan that dictates your orders???
Let me review the the markets that have my attention right now.
U.S. Stock market
I am a major bear based on the charts. I think that bottom feeders would be using their time, energy and money much more wisely by looking for a spot to short the Nasdaq or S&Ps or Russell. I am shocked that self-identified "chartists" want to buy for a bounce given the H&S top in stocks.
Come on you chartists — is this how little regard you have for the H&S pattern. A H&S pattern (that is, a true H&S because so many chart hacks misinterpret the pattern) is the most reliable and powerful indication among all configurations of a major trend change. If we were back in the days of paper charts, I would tell you to throw your chart book away. I am sorry, but this is how I feel. We have an historic H&S top in stocks — we are early in the decline — and you are trying to scalp from the long side. Is this how short term the trading world has become? How has buying for the bounce worked out for you? The weekly charts for the Russell and the S&Ps and the daily Nasdaq chart is shown below.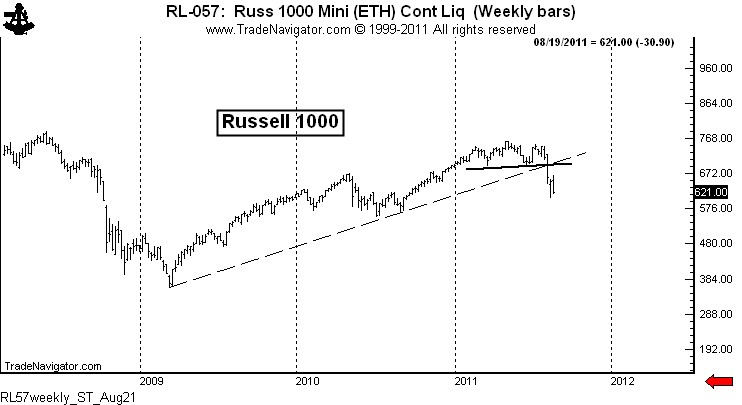 You will notice on the Nasdaq chart the two options I envision for the next couple of weeks. Under the first option, the market keeps tanking, redefining the meaning of oversold, and blowing the bottom feeders apart. Under the second option, the market rallies from just above or just below the August 9 low, gives false hope to the bulls, makes the bottom feeders pay up, and then tanks. The CFTC Committment of Traders report issued last week would support the idea of a bounce. 
In either case I have NO interest in putting on my bottom feeder uniform. I only have an interest in the short side. WE HAVE AN HISTORIC TOP IN PLACE. I am not sure how the fundamentals will change, but they will change. And only when the street becomes extremely bearish and capitulates will the first major multi-week bounce begin. But even then, the bounce will just be a bounce (even if it is 150 S&P points or so).
The chart below is an intraday chart of the Nasdaq I posted on Wednesday, showing the rising wedge (perhaps a flag) that defined the first dead cat bounce. We will NOT be putting in a double bottom, by the way.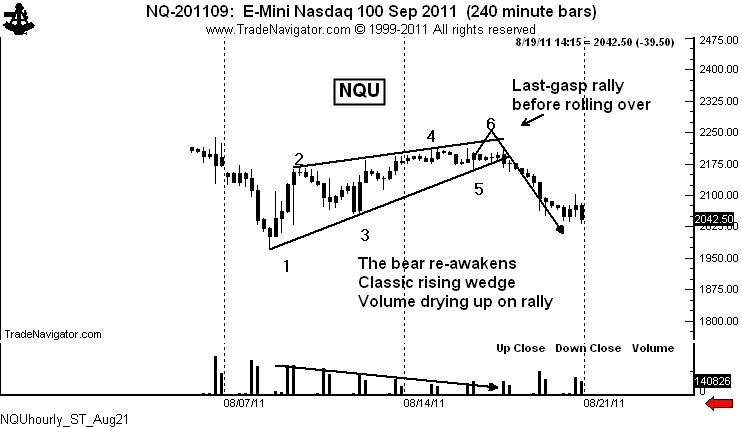 Again, and I hate to repeat myself on this one, I am flabbergasted that people who call themselves chartists have so utterly discounted the H&S top. Right here and now I am challenging you "chartists" to examine yourselves. Are you really chartists, or are you using charts as a prop? If you are a counter-trend RSI indicator-based trader, then call yourself that. But don't present yourself as a chartist. Real chartists were screaming "bear" from the roof tops about the H&S top in the stock market rather than trying to buy for the bounce. Shame on you — and you know who you are and I know who you are!
Silver
There are two ways to view the Silver chart — one very bulllish and one EXTREMELY bearish. Take your pick. By the way, I think you Silver bulls who are preaching the "20 to 1 Gold/Silver ratio" story are crazy. You believe in this ratio because some 16th Century Spanish king declared it to be the standard. Sorry, we no longer live in a world dictated by Spanish kings. The historic "mean" for the ratio is around 45 or 50 to 1.
The first interpretation is that the daily Silver chart has completed a 3+ month horn or sloping bottom, as defined by three minor lows with two intervening highs. This pattern is marked by solid lines. Closing above the early August high completed the pattern with a target of $52 or so.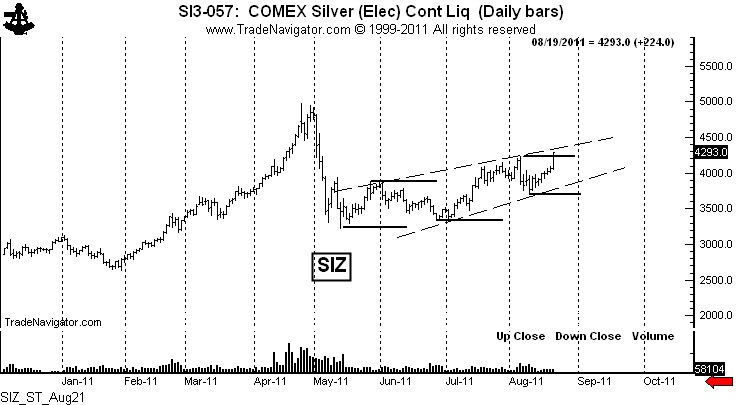 The second interpretation, marked by the dashed lines, is that the chart is forming a rising wedge retest of the April top. The volume profile of the market argues for the rising wedge interpretation. I hate patterns with diagonal boundaries, so I prefer the sloping bottom interpetation. Also, there is signficant problem with the rising wedge interpretation. Under classical charting principles, this wedge should have originated with a low as the first major contact point. The wedge in Silver does not set up that way. Early Friday morning I posted a chart on Chart.ly showing that Silver was poised to gain on Gold. See chart here.
Soybeans
The Soybeans are forming a 7-month ascending triangle and a 5-month rectangle on the weekly and daily charts. A resolution of the rectangle should determine the next $1.70 move in Beans. I have this market bracketed with stop orders. For now it is range bound. I am not very good at trading a market within a range. Perhaps you are. If you are, then all the more credit to you. When market finally breaksout, it will rip.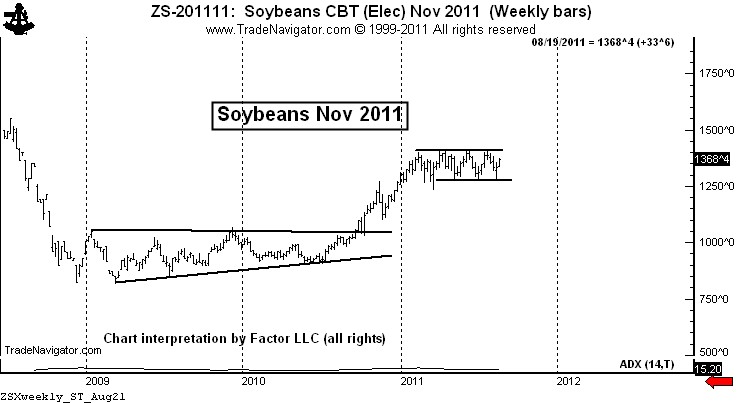 Sugar
My opinion of Sugar is well known. I have shown the quarterly chart several times, including here. The weekly chart of the March 2012 contract is shown below, as is the chart of the Sugar ETF $SGG.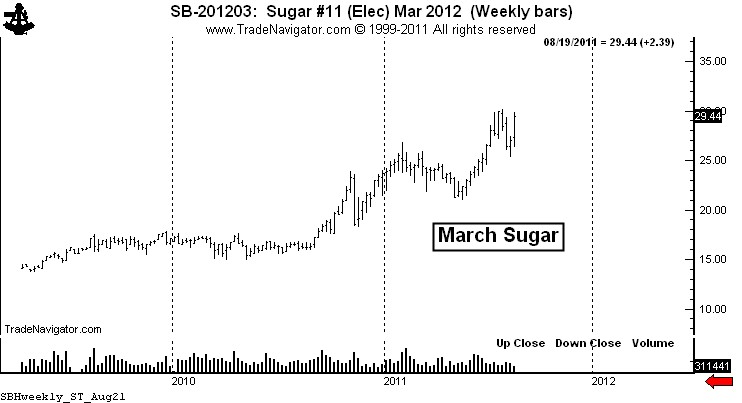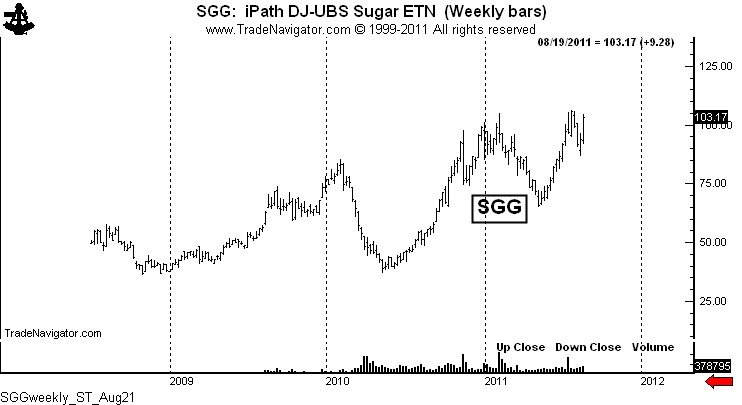 My target for March Sugar is 60 to 65.00. My target for SGG is $160+. There has not been a sustained bull market in Sugar for 31 years. I will tell you this — there is nothing like bull markets in Sugar and Silver. They are in a class by themselves. When Sugar runs, look out. The chart below shows the Sugar bull market in 1974. You will see that prices went from 26.70 to 66.00 in 9 weeks. That is average of 438 points per week, or 87 points per day. For 9 straight weeks. During 44 trading days, the market closed below the low of the high day of the move only twice. Of course, back then we had strict trading limits. Without such trading limits Sugar could reach 60 to 70.00 in just a month. But then the bull market will be done and Sugar will return eventually to 15 cents.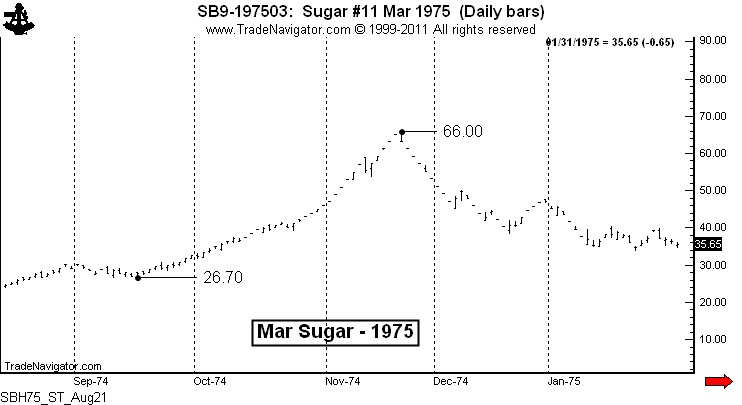 It is my sincere hope that some of you bottom feeders in the stock market will attempt to pick a top in Sugar.
Cotton
A massive H&S top is in place in Cotton. The H&S has an unmet target of 82.00. The market is now forming a possible 6-week rectangle. The market experienced a minor reversal on Friday. A low risk short is being presented with the opportunity to pyamid if the rectangle is completed.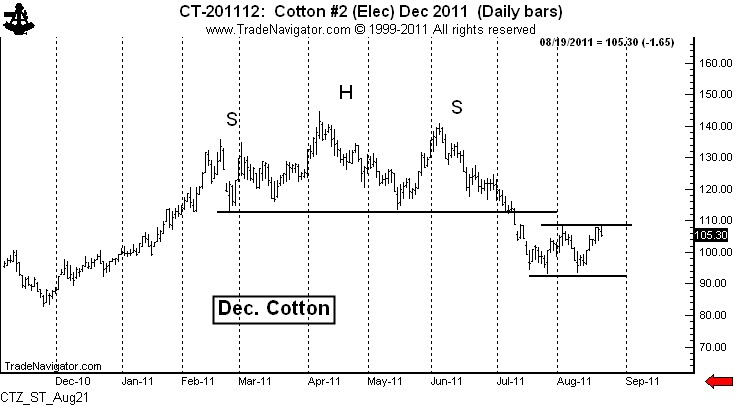 U.S Dollar Index
I posted a bearish view on the U.S. Dollar Index this past week. See here and here.
The dominant chart pattern is the massive symmetrical triangle on the weekly graph. The daily chart (not shown) is forming a possible bear flag.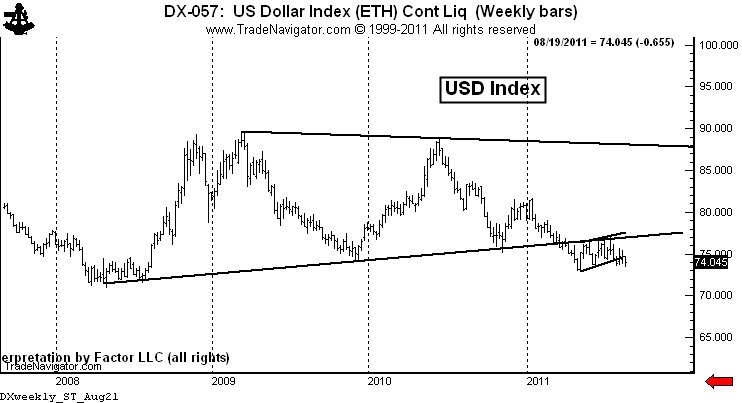 This market is a perfect example of a concept I call "strong opinion, weakly held." While the overall chart picture is quite bearish, I am not planning to get married to this interpretation. I will short a new low, but I would go long above the August high.
USDCAD
The weekly chart of the C-Buck displays a possible double bottom. I will go long if this chart can penetrate the recent highs with a target of 1.06.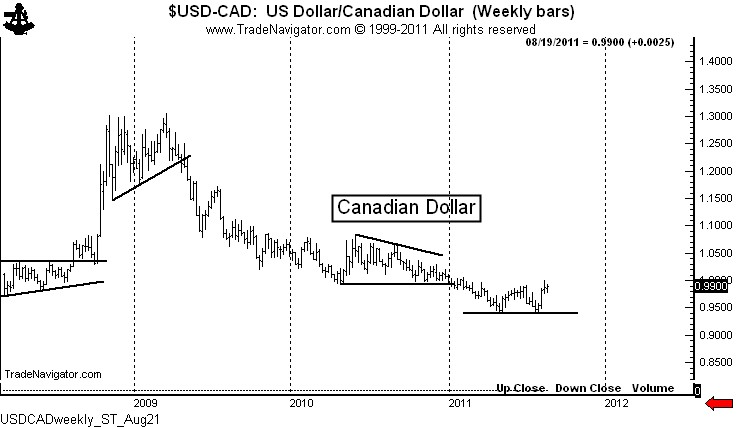 Coffee
I cannot remember the last time I traded Coffee — it was probably 18 months ago. This market is in a major bull trend, as shown by the weekly graph. Additonally, the CFTC Committment of Traders data are quite bullish on Coffee.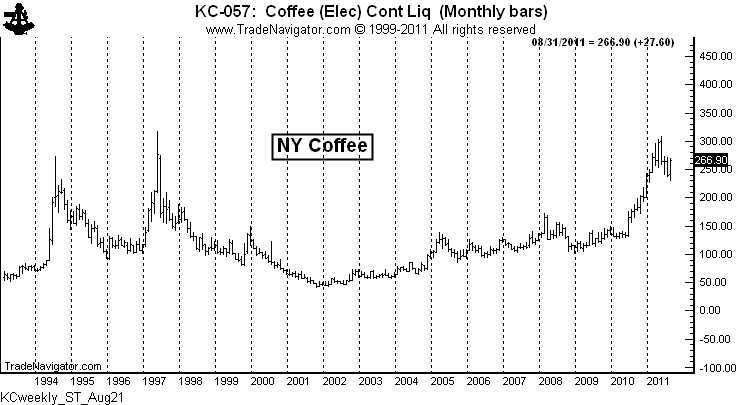 The daily chart shows that the market has completed a bull channel. To tell you the truth, I have no idea how to play this market. The futures are too rich for my blood unless a stiff set back occurs. I have no desire to sweat out a Coffee positon while on vacation.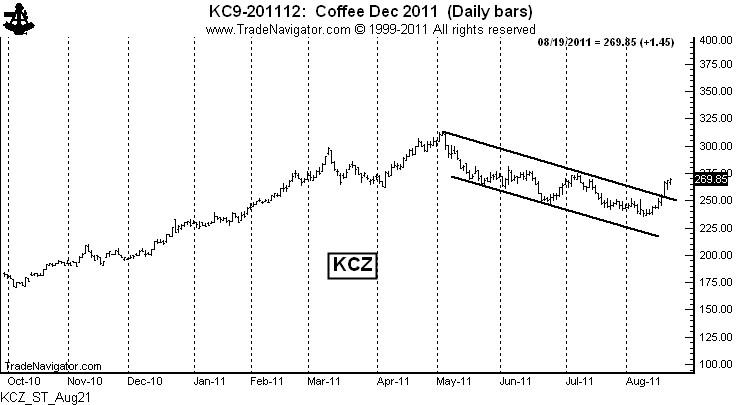 Markets: $RL_F, $IWB, $IWF, $IWD, $SPY, $ES_F, $QQQ, $NQ_F, $SLV, $SI_F, $ZS_F, $SGG, $SB_F, $CT_F, $UUP, $DX, $DX_F, $USDCAD, $G6C_F, $KC_F
###
The information in this blog post represents my own opinions and does not contain a recommendation for any particular security or investment. I or my affiliates may hold positions or other interests in securities mentioned in the Blog, please see my Disclaimer page for my full disclaimer.

blog comments powered by

Disqus
Peter Brandt entered the commodity trading business in 1976 with ContiCommodity Services, a division of Continental Grain Company. From his start in the commodity industry, Peter's goal was to trade proprietary funds. But, he first needed to learn the business. More »

Archives