Commodites: Bull market corrections or the start of bear markets
It is too early to tell, but I think we experienced normal (but sharp) bull trend corrections and that the trend in commodities remains up
My focus in this correspondence is on Heating Oil, Soybeans, Silver and Sugar.
Markets do not just go straight up. This is especially true for dominant bull trends which tend to have many severe corrections along the way. There is nothing in the underlying chart structure of the markets covered herein that indicates a turn in the dominant trends.
Sugar
It is always wonderful when a position is never put into trouble. I especially hate corrections that come soon after what I interpret to be a major signal (in this case, I thought May Sugar flashed a major buy signal on Feb 21).
Yet, using all the classical rules of technical analysis, the bull trend in Sugar seems to be legitimate. Historically, increasing prices, increasing volume and increasing open interest are signs of a healthy trend. If my analysis of a 6-month wedge is correct (always a big IF), the current correction is just retesting the top end of the 3-month rounding or scalping bottom. Support exists at 24.50 and 24.07. I will reappraise my opinion of this market if the May contract moves below 23.50. I am long Sugar.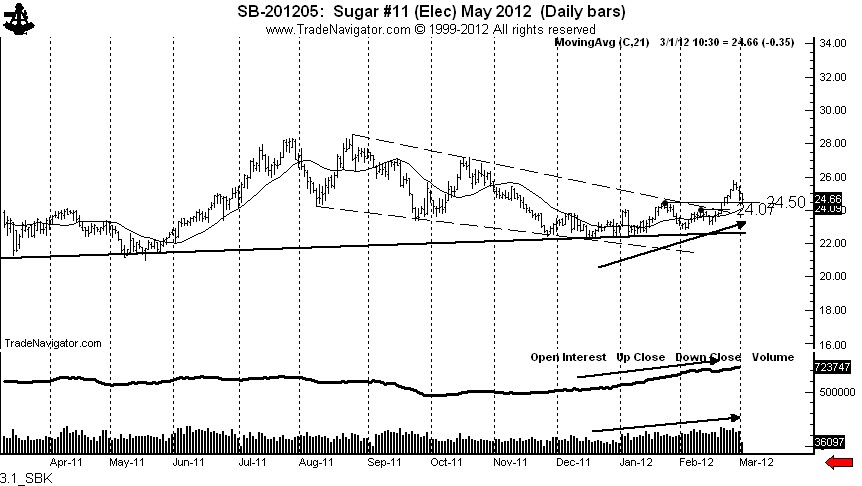 Silver
The market attempted to poke out of the top of a 10-month channel on Tuesday and Wednesday, but has turned back down.  I view Silver the same way I view Sugar — an up in price, the short-term moving average, volume and open interest are constructive. The sweeping key reversal of Wednesday is likely to keep a lid on this market for now. I am flat in Silver.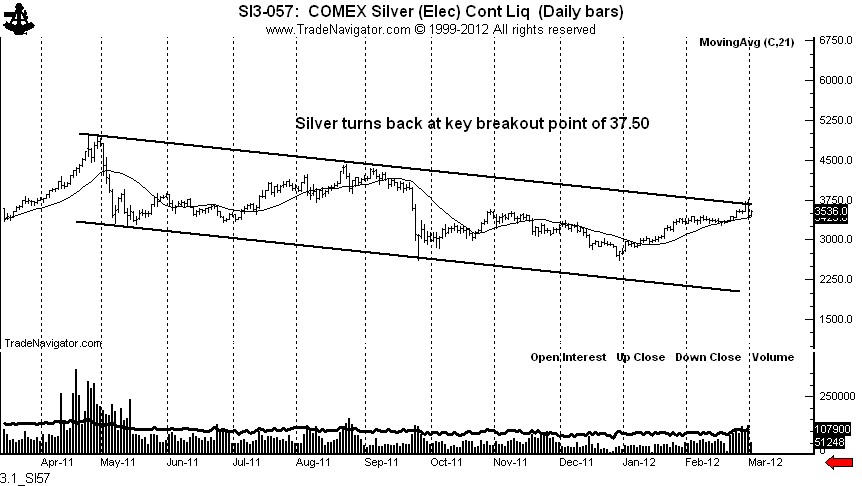 Heating Oil
Prices up, moving average up, open interest up, volume up. This historically has spelled "healthy bull trend." I view the sharp break earlier this week as a simple retest. A move below Wednesday low would test my resolve. The beark shook me out of my long position. There is nothing more bullish for a market than sold-out bulls.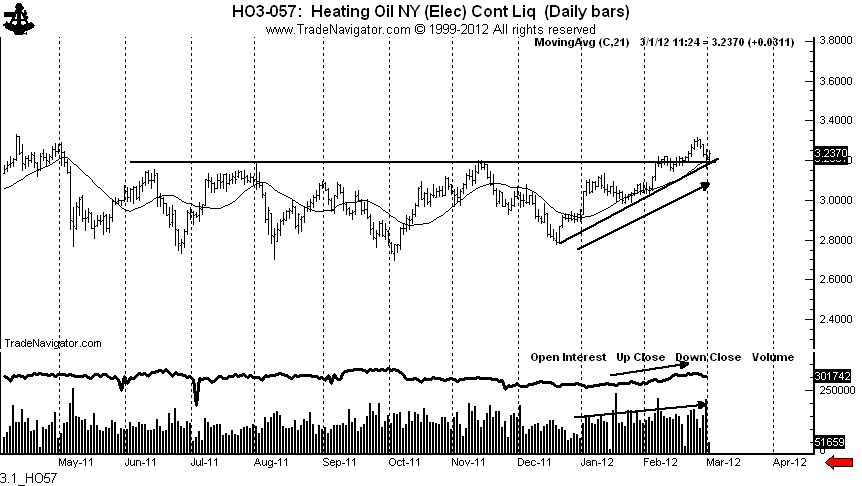 Soybeans
Volume up, open interest up (although the decline in OI this week is concerning), moving average up, prices up, completed H&S bottom. I am long Soybeans.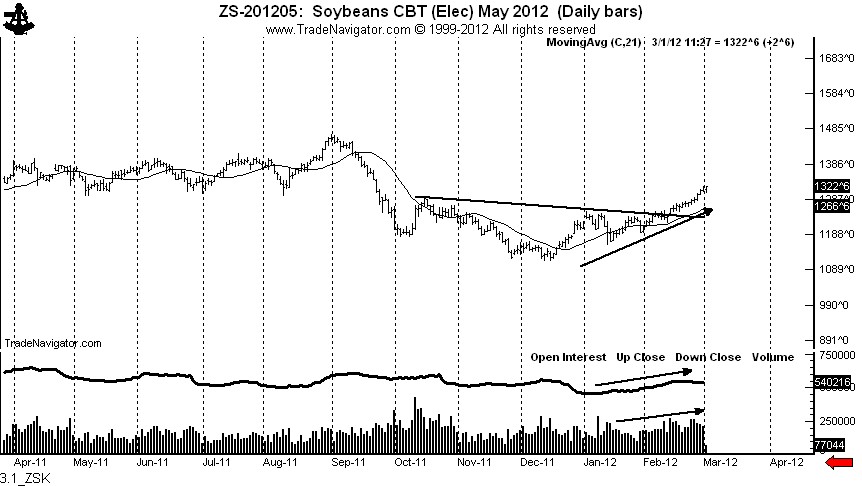 Markets: $ZS_F, $SI_F, $SLV, $HO_F, $SB_F, $SGG
.
The information in this blog post represents my own opinions and does not contain a recommendation for any particular security or investment. I or my affiliates may hold positions or other interests in securities mentioned in the Blog, please see my Disclaimer page for my full disclaimer.

blog comments powered by

Disqus
Peter Brandt entered the commodity trading business in 1976 with ContiCommodity Services, a division of Continental Grain Company. From his start in the commodity industry, Peter's goal was to trade proprietary funds. But, he first needed to learn the business. More »

Archives