The bearishness of the Eurodollar chart cannot be over emphasized!!!
The Eurodollar chart is preparing for a massive price decline
[Note: Eurodollar prices trade as the inverse to yield. A Euro$ price of 100 equals 0% interest, a price of 96 equals 4% interest, etc. In some cases I may refer to yields, in other cases to rates. Please don't get confused. Eurodollars are the most liquid of all futures markets with average monthly volume in excess of 40 million contracts.]
First, let's look at the Eurodollar market from an historical perspective. I could not find a 70-year chart of Eurodollar rates, so following is a long-term chart of T-Bill yields, which tend to be almost identical to Eurodollar rates.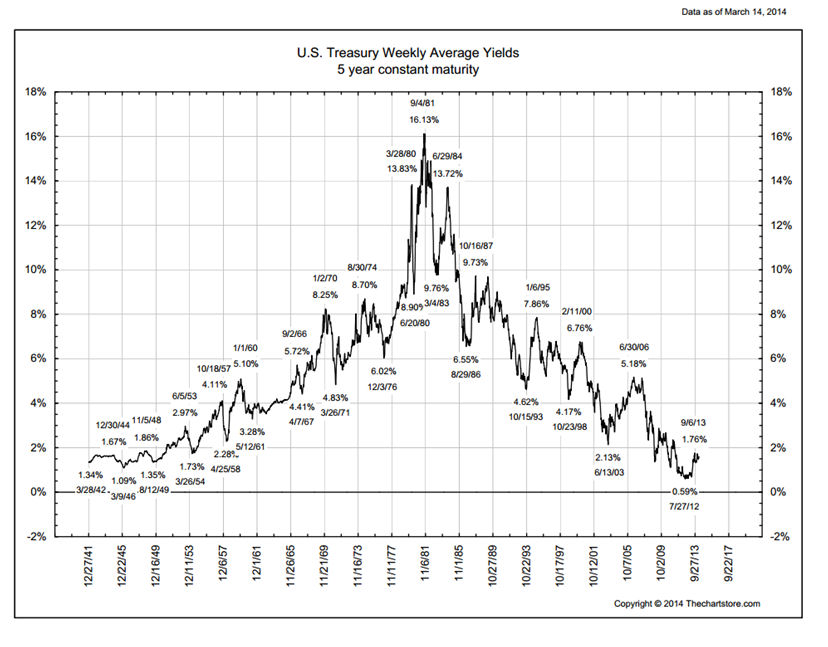 Next is a chart of Eurodollar prices dating back to 1982. Note that prices have tended to trend quite well — and have done so in an upward yo-yo motion.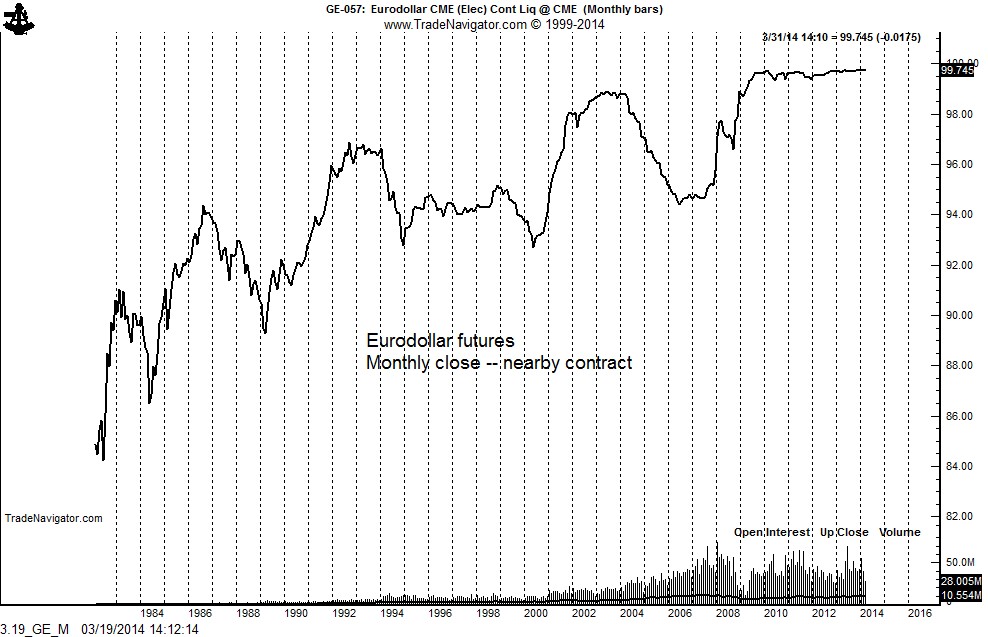 Next is the weekly chart of the Dec. 2016 contract of Eurodollars. The chart has been forming a Head and Shoulders top since late 2011. The H&S pattern is perhaps the most powerful reversal pattern of all chart configurations. It is quite possible that the right shoulder high is in place. The target of this pattern would be around 95.00 (reflecting a yield of 5%).  The Dec. 2016 Eurodollar chart presently reflects a yield of 2.3% — half of the projected yield based on the charts. It must be pointed out that a Eurodollar yield of 5% is not the end of the world. In fact, much of the economic expansion of the 1980s and 1990s took place with short-term yields at or above 5%. The Zero Interest Rate Policy of recent years in an historic anomaly.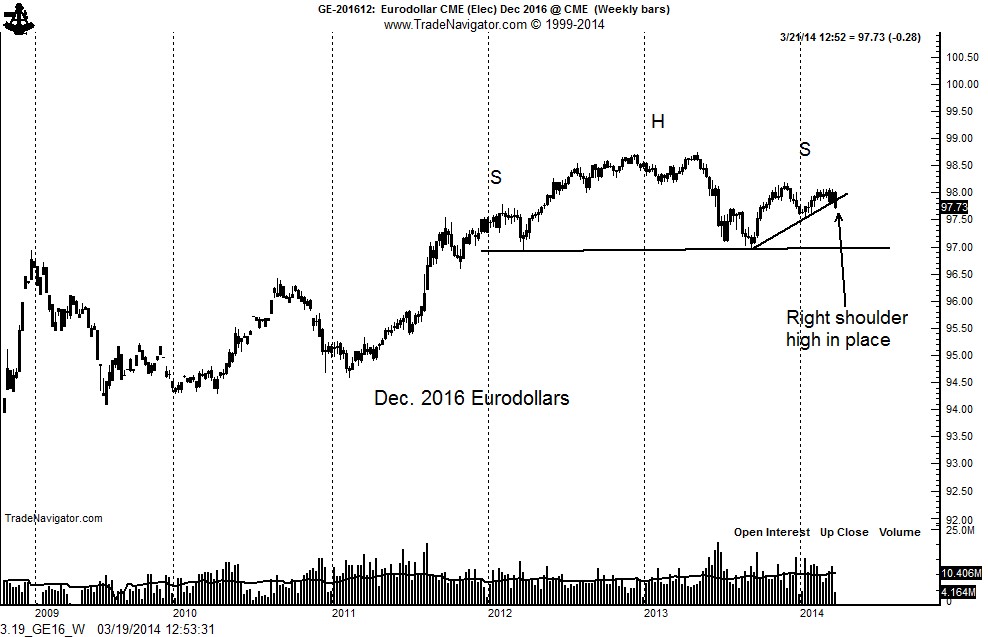 Next, the daily chart of the Dec. 2016 contract shows the strong price decline today with a wide-ranging day. Of course, the market attributes with decline to Janet Yellen. But, I am a chartist and really do not care why markets go up or down.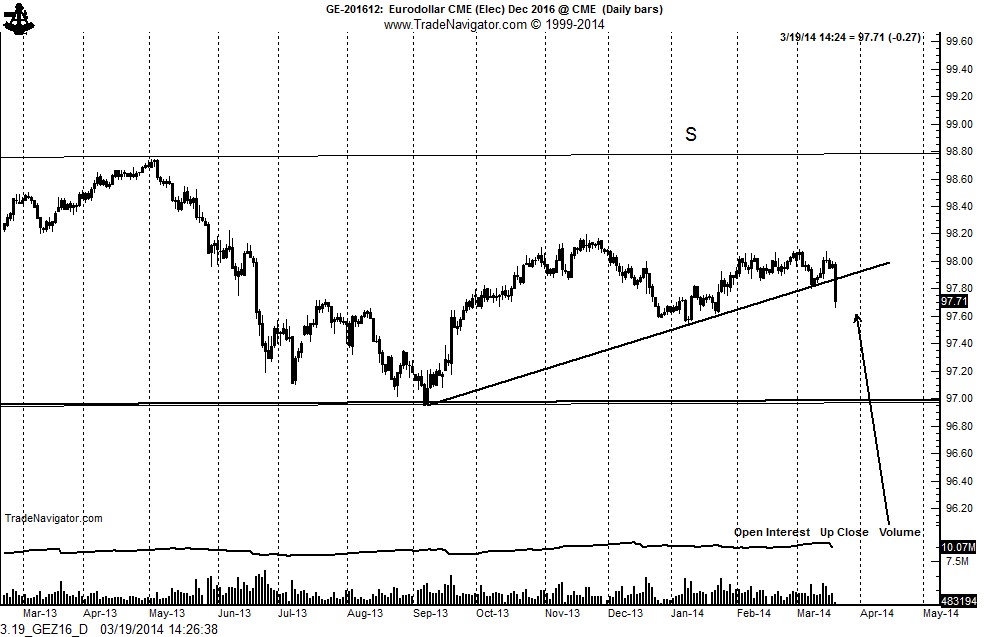 I believe that the price of Eurodollar futures have begun a sizable decline. Only a close above the November high would change my interpretation.
###
To receive this type of report on a regular basis as a member of the Factor Email Service, click "Subscription Membership" at the top banner. Membership is limited.
The information in this blog post represents my own opinions and does not contain a recommendation for any particular security or investment. I or my affiliates may hold positions or other interests in securities mentioned in the Blog, please see my Disclaimer page for my full disclaimer.

blog comments powered by

Disqus
Peter Brandt entered the commodity trading business in 1976 with ContiCommodity Services, a division of Continental Grain Company. From his start in the commodity industry, Peter's goal was to trade proprietary funds. But, he first needed to learn the business. More »

Archives