A major bull case for grain markets
Both the technicals and fundamentals point to the potential for powerfully higher prices
I am basing this conclusion on price charts, although I could also create a fundamental scenario to support the conclusions. I may reference a few of the fundamentals without comment herein. I provide this caveat — the technical bull case still has to be proven. Markets are about possibilities, not probabilities and not certainties. If you want probabilities, find a different blogger.
The long-term Meal charts are quite constructive. Consider the quarterly bar chart. The advance in early 2008 completed a massive 34-year base. The market then experienced a hard retest of the base starting in mid 2008. The rally in June 2012 confirmed the base and completed a 4-year symmetrical triangle. The weakness since September 2012 has been a retest of the triangle.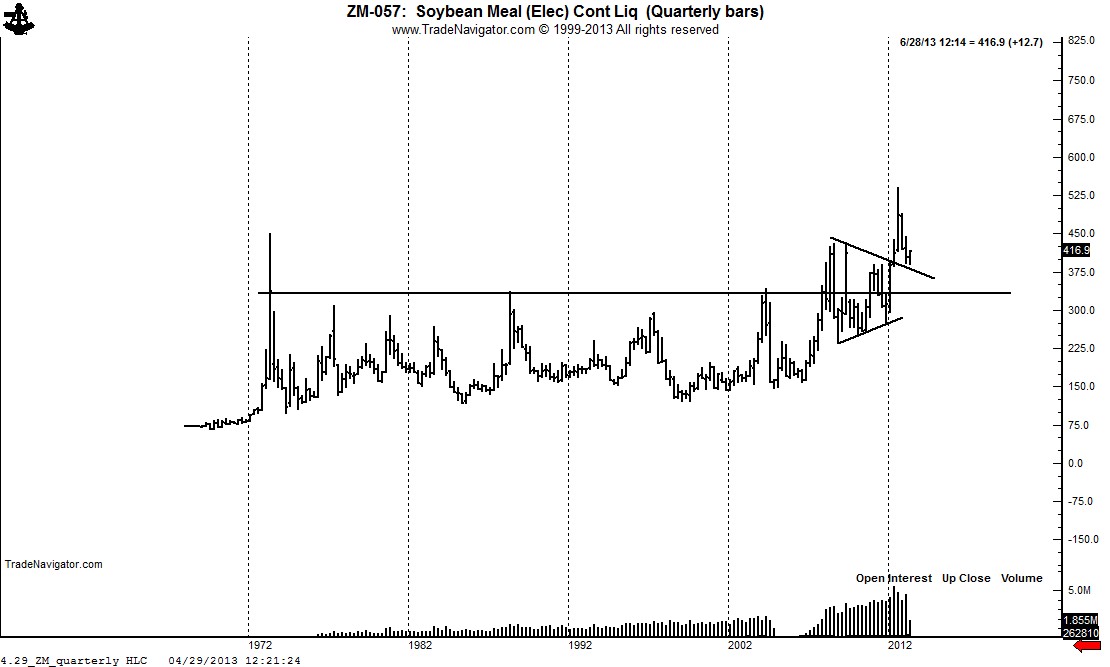 The concept of classical charting is based on a tendency of markets with certain construction to repeat. By way of comparison, look at the quarterly chart of Silver. The current Meal chart has many similarities to what the Silver chart showed a few years ago.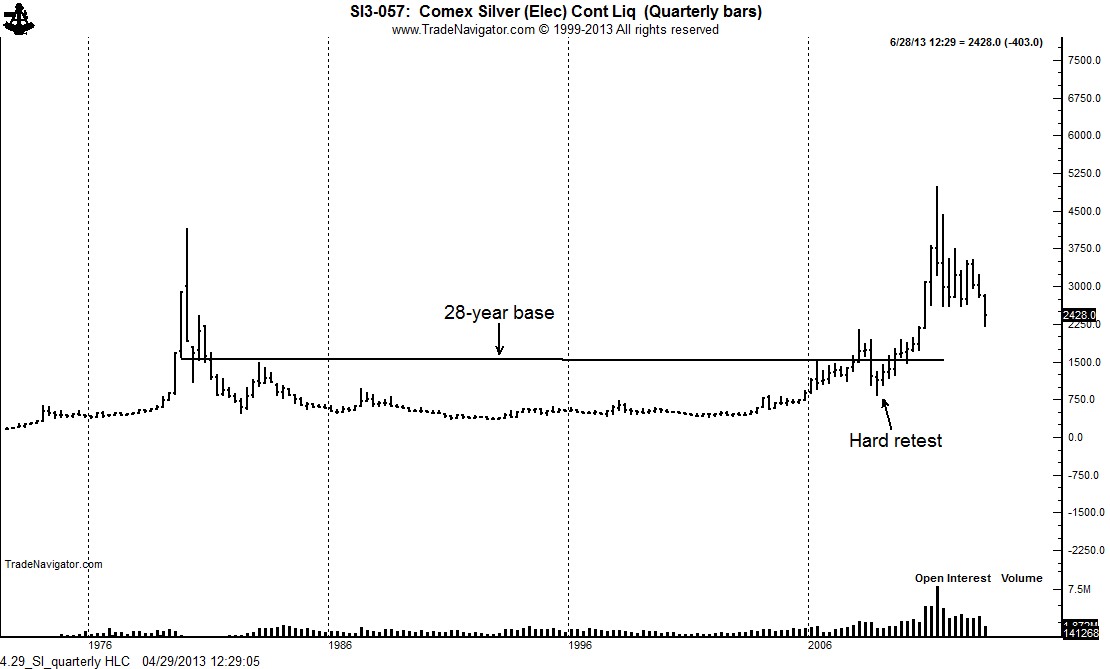 Similarly, the quarterly chart of Corn shows the stair-stepping higher pattern. The burden is on the bears.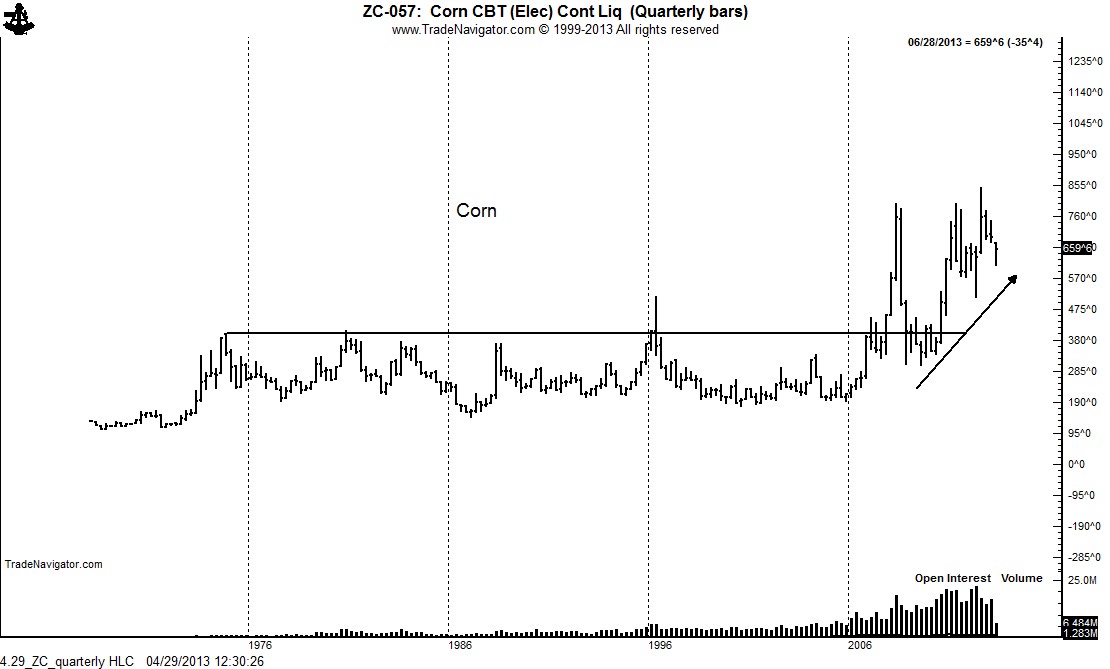 Near term, I draw your attention to the possibility of an area island bottom on the daily Corn chart. I am not sure if this will become realized, but if it does, look out. I will make one more point on Corn. The May/July Corn spread reached 42-over in recent weeks and is presently at 23-over. This is HISTORIC — widest old crop intra-delivery spread in the history of Corn trading. Where there is smoke there could be fire. Corn is extremely tight, and any concerns about planting and growing conditions in 2013 will shut farmer selling down.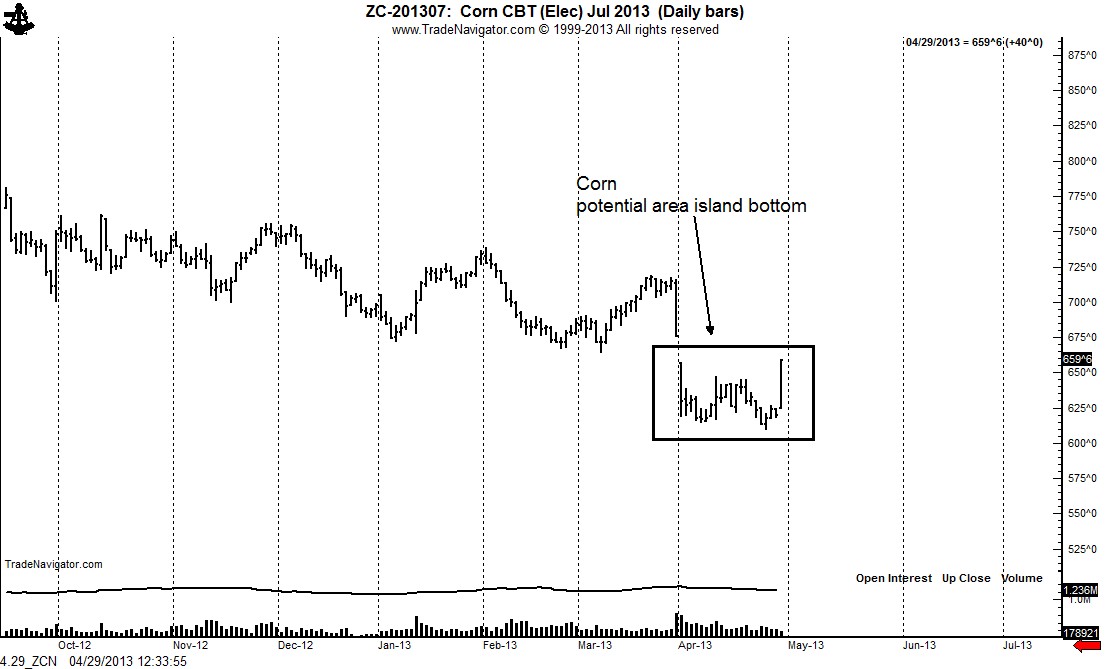 The monthly Soybean graph also displays a market in a steady advance. Again, the intra-delivery spreads are acting bullishly.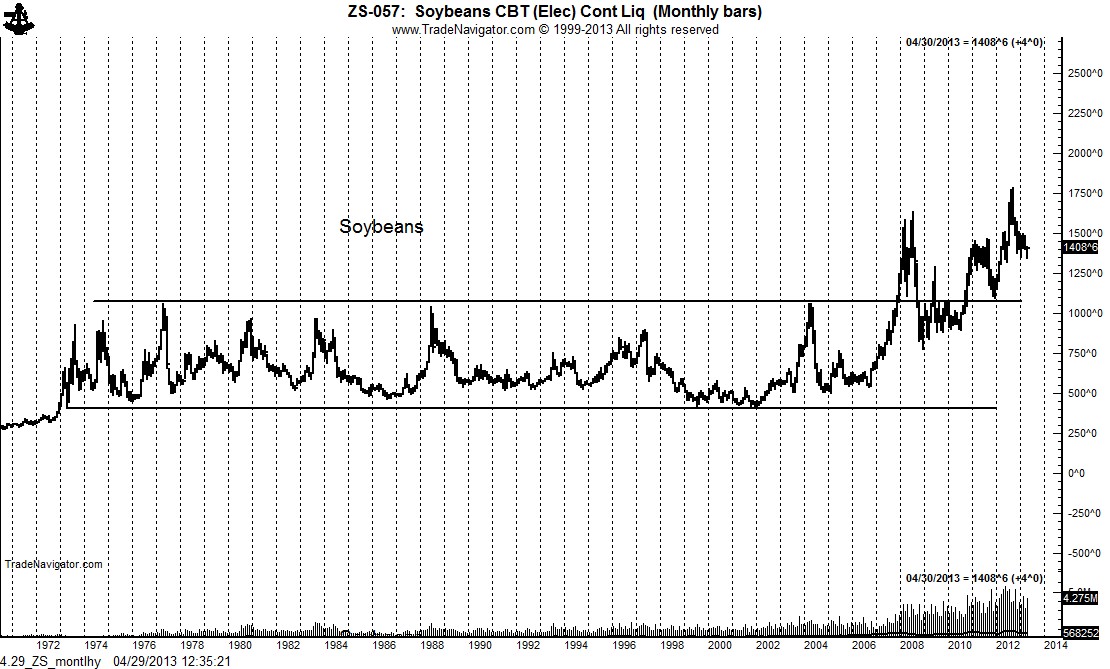 Ditto Wheat.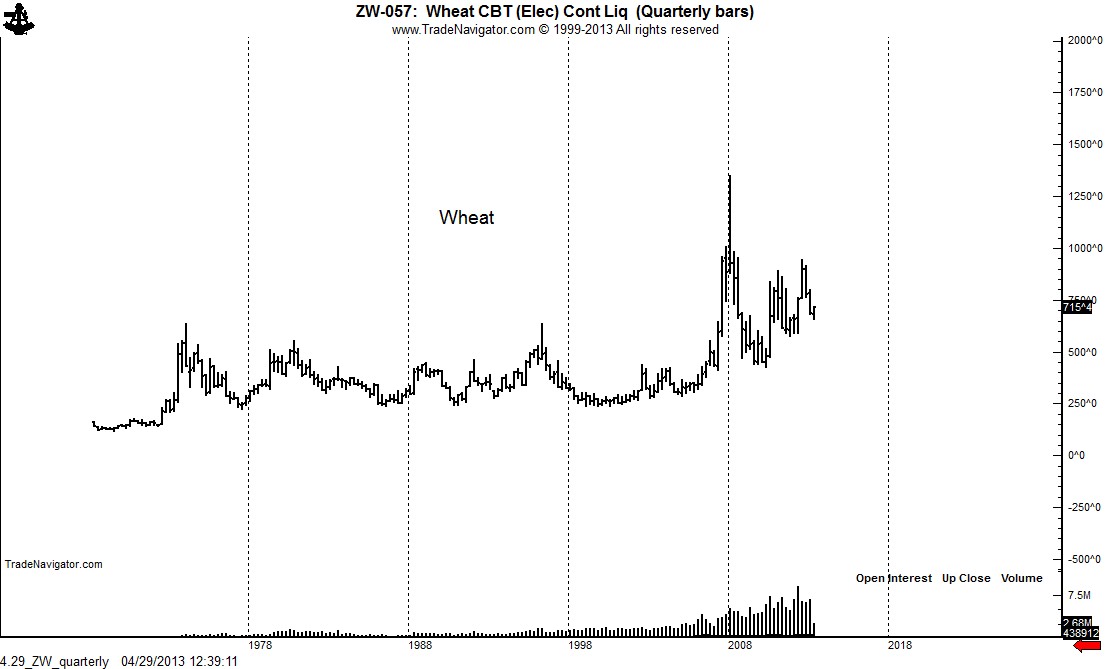 I want to reiterate that at this time the bullish interpretation of the charts is just a possibility. But, as a trader, I love wild possibilities with torqued reward to risk profiles.
Markets: $ZC_F, $ZM_F, $ZW_F, $ZS_F
The information in this blog post represents my own opinions and does not contain a recommendation for any particular security or investment. I or my affiliates may hold positions or other interests in securities mentioned in the Blog, please see my Disclaimer page for my full disclaimer.

blog comments powered by

Disqus
Peter Brandt entered the commodity trading business in 1976 with ContiCommodity Services, a division of Continental Grain Company. From his start in the commodity industry, Peter's goal was to trade proprietary funds. But, he first needed to learn the business. More »

Archives