A major devaluation in the Peso (increase in USD/MXN) is in progress
As predicted by the Factor Service on Dec. 2 (Hasta la vista, peso mexicano), as well as by analysis dating back to Dec. 2013, the Peso has begun a significant period of depreciation against the U.S. Dollar, as reflected by a higher USD/MXN bank rate. The chart below depicts the number of Pesos per U.S. Dollar. The Factor is forecasting a move by USD/MXN to at least 17.5 in the months ahead with an eventual target of 20.0.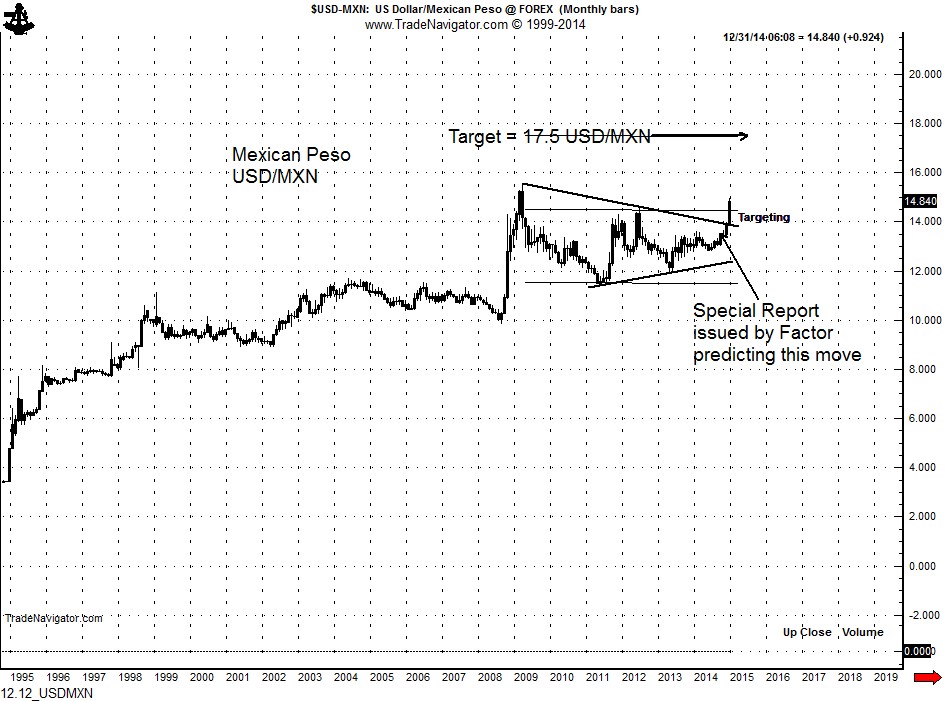 Hasta la vista, peso mexicano
The membership cost for the Factor Service will increase by 30% (for new members only) on Jan. 1. To receive all the analysis conducted by the Factor, become a member today.
###
Peter Brandt entered the commodity trading business in 1976 with ContiCommodity Services, a division of Continental Grain Company. From his start in the commodity industry, Peter's goal was to trade proprietary funds. But, he first needed to learn the business. More »

Archives