Silver production has increased despite falling Silver prices
Twitter and other dialog forums on the web are filled with Silver bulls who claim that miners will not mine when Silver prices fall below the cost of production. Unfortunately, many of the claims made by rabid Silver bulls do not stand up to critical examination.
First, global Silver mining production has actually increased despite falling Silver prices, as shown on the graph below. In fact, since 2011, Silver mining production has increased by 8.6% despite a decline in the average annual Silver price of -32.3%. From 2004 through 2011 — a period with booming Silver prices — global mine production increased by an average of 3.0% annually. Global mine production increased by 4.2% annually since the 2011 price top.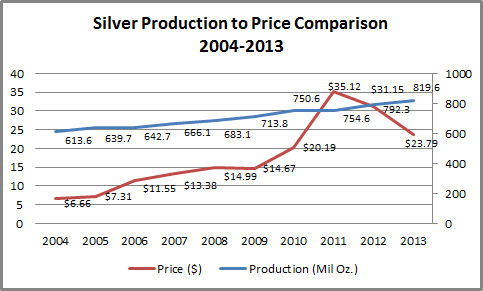 No doubt some small marginal-cost-of-production mines have shut down. So what? Bull markets in all raw materials bring forth high-cost producers. But the addition and then withdrawal of such producers has little impact on overall global production output. The commodity markets do not guarantee a profit to "Johnny-come-late" producers.
Even if  Silver prices fell below the cost of production of the large international mining operations, mining would continue, and perhaps even accelerate. Why? There are two factors at play. First, the cost of shutting down a huge mine only to re-start it in the future is an extremely expensive proposition. Second, during periods of low Silver prices, mining operations attempt to become more efficient — and this efficiency can include increased Silver production.
Then there is the matter of production cost itself. Silver bulls claim that the cost of producing Silver is well above $20 per ounce. Kitco.com recently reported a production cost of  $24.05 per ounce.
Yet, the Silver industry itself reports drastically different figures. According to a survey in 2014 by the CPM Group (a reputable commodity consulting company), top producers have a production cost below $10 per ounce. The Silver Institute World Silver Survey 2014 listed the cost of production in 2013 at $9.27 per ounce. Keep in mind that this cost does NOT include capital expenditures, exploration, corporate overhead and many other financial burdens incurred by mining operations. The "all-in" cost of production will vary substantially from company to company. But the global giants will continue to mine even if they are mining at an "all-in-cost" loss.
My point is that Silver bulls who support their bullish views by claiming that the industry cannot operate at current price levels are crying wolf and talking their position.
###
Peter Brandt entered the commodity trading business in 1976 with ContiCommodity Services, a division of Continental Grain Company. From his start in the commodity industry, Peter's goal was to trade proprietary funds. But, he first needed to learn the business. More »

Archives